Updates on new pieces, shows, and other things of interest!
Learning from Ken and Wolf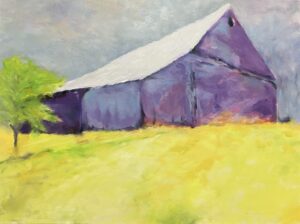 Barn, after Wolf Kahn, 30×40
This summer I attended an intensive small-group workshop led by Colorado artist Ken Elliott, who, among many other interesting experiences in his life, had studied with the artist Wolf Kahn. When paging through Ken's image library for something to do as my workshop project, my breath caught at simple piece of a purple barn on a yellow field; it was obviously Kahn's work. "You've got to paint this!" Ken urged me. "We'll all learn so much if you do!" With my heart in my throat I picked up a brush and started working big, fast, and furious, using the techniques Ken had shared with us, including some that he had learned from Wolf. I came home resolved to incorporate these methods and some of Wolf's and Ken' philosophies into my work. The weekend was a great experience that pushed me to relax and try new things while trusting that everything will work out in the end.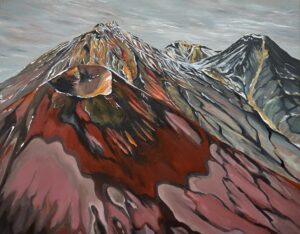 Fire and Ice, Kamchatka, 16×20
In the waning days of the Soviet Union, I worked on a field project to install seismic sensors around the east Kazakh underground nuclear test site – but that is a different story. One of the Soviet geologists gave me a beautiful photography book of Kamchatka volcanoes, which I came across recently when cleaning out my professional library. That provided the reference for my first "geological" painting. I had painted it very realistically when my friend Carl – also a geophysicist and artist – asked "So what are you going to do with the negative space?" That pushed me to put the book in a drawer and recreate the volcanic slopes in an imaginative, almost mosaic pattern, making for a richer and far more interesting piece (thank you, Carl!).
Night Bloomers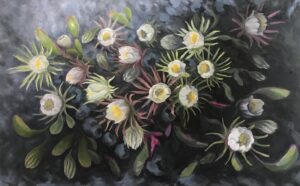 Cactus Cantata, 30×48
The inspiration for this painting came from two directions: an attempt at a large abstract piece that had not worked out, and a 2021 NYT article about night-blooming flowers that included a striking video of them opening and closing. I picked up my palette knife and covered the failed abstract with a thick cerulean blue-and-grey layer to begin fleshing out Night Bloomers (working title). I invented new leaves and buds and created a deeper level of grey/blue background blooms from accidental shapes "found" in the initial palette knife work.
This is not my first piece inspired by the NYT. In 2016 I tore a black-and-white photo out of the paper ("seven swans a-swimming" in Central Park), edited out several birds, and colorized the image into Five Swans.
I wanted a title conveying the sense of joy, motion, and unity that found its way into the finished piece. Cactus Chorus? Too blah. Cactus Cacophony? Too disorganized. My husband, a classical music aficionado, found the perfect word: Cantata – a work for choir and orchestra.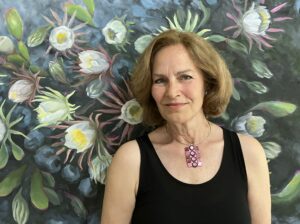 Monks, Light, and the Pacific Ocean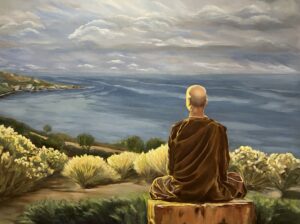 Fiat Lux Pacifica, 30×40
I asked my Facebook friends to help me name this painting, whose working title was Monk at Shores. They suggested Infinitude; Serenity; Evening Glow; Alight on a Peaceful Shore; something about the Pacific and peaceful; something to do with light.
At the end of this meditation I arrived at Fiat Lux Pacifica, which Google translates from Latin to English as "Let there be a peaceful light." This seemed perfect, because Fiat Lux ("Let there be light") is the motto of the University of California, my employer for about half of my working life as a geoscientist.
The inspiration for this piece came from an article on meditation sent by a friend that included the image below. It gave me the impetus to start on this companion piece to my 2017 painting Monk Walking. I enlisted John as my head-and-neck model and decided to locate the monk on a bluff on UCSD campus overlooking Scripps and the point of La Jolla, essentially the same location as the iconic photograph by Ansel Adams for the 1968 book Fiat Lux: The University of California commissioned in observance of the university's centennial. I wanted to match the horizontal yellow band in Monk Walking, so I used an iPhone pic of strongly-lit desert bushes from a trip to Death Valley. The sky just fell out of my imagination, fueled by years of watching clouds above the ocean.